About Massar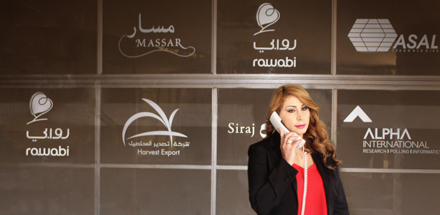 Massar is an Arabic word meaning "path". The name symbolizes the vision of its founder – to create a company that would successfully link the very best of local professionalism in Palestine with international standards. Our corporate vision is to fully integrate the Palestinian economy into the global market, by implementing best practices and fostering Western management perspectives.
Massar International is a holding company headquartered in Ramallah, Palestine, which oversees and manages a network of more than 30 subsidiaries and investments. Founded in 1994 by Palestinian-American pioneer Bashar Masri, Massar has two decades of experience promoting economic development in Palestine through private sector initiatives.
The company has followed the needs of the Palestinian market and proactively capitalized on opportunities to grow its business activities. Several of its key start-ups have blossomed into leaders in their respective sectors; Massar International has flourished as a result. Core businesses range from real estate development, financial services, media and ICT, to investments and corporate business development.
While the chronic political turmoil unavoidably constrains us in some ways, it has motivated Massar to diversify and to build regional teams, all the while remaining true to our mission. Today, Massar International's operational network includes the MENA region. We have created a diversified portfolio with an optimal balance between short-term return on investment, future growth and maximization of shareholders' value. Our success has been realized through our dedication to create real value for our partners and shareholders, as we actively seeking joint venture partners and international investors for our projects in all markets.
The experienced partners, management teams and professional staff of each subsidiary are carefully recruited and trained to uphold our values and embody our vision. Our employees must have a passion for achievement, an enthusiasm to excel, and the desire to serve others. We recognize the value of diversity within our organization. Together, we are proud of our active contribution to the building of our nation, the development of our economy and the advancement of our society.
Our strategy is guided by:
Sustainable economic development
We embark in investments that address local and regional economic development priorities. We work as active investors through our holding company's network of subsidiaries, optimizing the synergy between them.
Diversification
We have created a diversified portfolio in a value chain of growth opportunities. By striking the right balance, we ensure short-term success and cumulative future development. In the Palestinian economy, we have garnered a comprehensive understanding of the market and its most promising investment opportunities across a range of sectors including real estate, financial services, media, information technology, industry, agriculture and trade-retail.
Capitalization on opportunities
Our investment strategy focuses on emerging markets and prospects. This approach is the foundation of our exceptional capacity for long-term growth. Each individual investment has a strong value-proposition, together creating a powerful portfolio.
Continuous upgrade of standards
We work systematically to upgrade business standards to stay ahead of our competition. By committing to this, we develop linkages to regional and international markets, thereby attracting more partners seeking development opportunities and business growth.
Abiding by these principles has proven successful and sustained the growth of Massar International.