Chairman's Letter
Welcome to Massar International.
As you explore this site, I hope you will share our vision of prosperity and peace, as well as gain a sense of our wide-ranging capabilities. This year, we celebrate our 20th birthday and as we reflect back on all our achievements and successes, we are also looking forward to the next 20 years.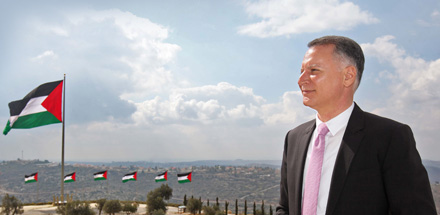 In 1994 I returned here from the United States filled with optimism about the future of Palestine and determined to do my part for the economic development of my native land. Despite the setbacks and the constraints, I remain an optimist; from a small outfit of just three people, we now employ thousands of people and are still growing. By doing good business, we have created jobs, developed markets in relevant sectors, and facilitated access to global markets for Palestinian businesses.
Our exceptional growth is attributable to a well thought-out strategy of both vertical and horizontal integration and diversification of our portfolio. As a result, we've been able to respond to a variety of opportunities in our core market, while also creating synergistic opportunities in new markets in the region.
Massar International continues to improve efficiency and effectiveness through a careful internal management process and application of new technologies to cope with external challenges and developments. The strength of our reputation points to the high caliber of the executive team and, professional staff, and the quality of products and services we deliver.
We have evolved into an international company and will remain committed to the development of Palestine, capturing development and business opportunities, capitalizing on them together with our regional and international partners.
Again, we welcome you to our website and hope that you will continue to visit us for more updates.
Sincerely,
Bashar Masri
Chairman of the Board